Sponsorship
Participating as a sponsor at ObesityWeek® provides branding opportunities, networking, additional product or service exposure, and shows your company's support of the preeminent international conference for obesity researchers and clinicians. Join a select group of our industry's best by selecting your sponsorship today.
Pick from one of our curated sponsorship opportunities, or reach out to Stephanie Garcia [email protected], your go-to for creating custom-designed sponsorships. Together, you can create a package that aligns with your brand and delivers the results you want.
Exclusive sponsorships will include Right-of-First Refusal for future years.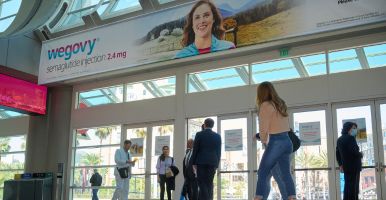 ObesityWeek® reserves the right to revise any aspect of the sponsorship to preserve the integrity and professional atmosphere of the conference. 
Elite Sponsorship Levels
Participating as an Elite Level Sponsor at ObesityWeek® is not only a very effective way to promote your brand and reach a highly targeted market segment, but it also provides you with an expanded set of benefits. Your benefits are based on the level reached by total sponsorship spend. Total spend includes Custom Sponsorship Packages, a la carte purchases, and General Sponsorship amounts.
Each Elite Sponsorship Level includes the following:
Recognition on the ObesityWeek® website, with a link to your site
Dedicated social media post on ObesityWeek® social media channels
Sponsor recognition on onsite signage
Signage for exhibit booth recognizing your company as a sponsor
Sponsor ribbons for booth staff
Additional benefits as defined below
OnSite Opportunities
Click on + to expand description for each opportunity. 
Welcome Reception - varies
$100,000 (exclusive)
$50,000 (non-exclusive, three opportunities available)
Make your best first impression at the Welcome Reception, the first official gathering of attendees at ObesityWeek®. Connect with old friends and meet new fellow industry professionals as you enjoy great food and drinks, while celebrating the opening of the exhibit hall.
Your brand will be promoted in pre-show marketing pieces, featured during the reception, and on the mobile app. Your sponsorship will include a table at the main entrance for your booth staff to greet guests and provide promotional handouts during the reception. You can also opt to have a branded  food station or bar placed in the vicinity of your booth in the exhibit hall.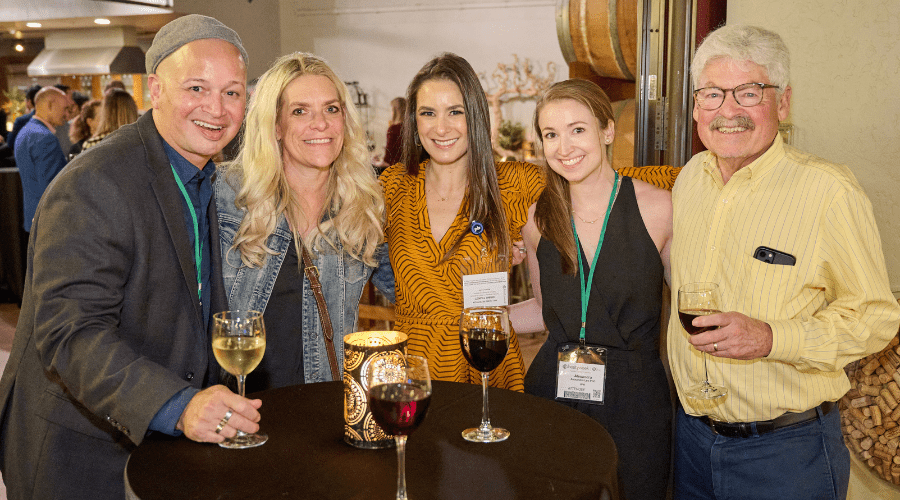 President's Awards Reception - $75,000 (exclusive)
Sponsor the President's Awards Reception to celebrate TOS volunteers and the honorees nominated by their peers for research achievements or major contributions to the treatment and prevention of obesity.
An invitation-only event, the President's Awards Reception puts your brand front and center of the most distinguished clinicians and researchers in the field of obesity science.
Your company logo will be included on invitations, on-site signage, and branding within the event space. In addition, your company personnel will receive invitations to attend, where they will be able to network with leaders in the field.
Hotel Key Cards - varies
$50,000 all four hotels (exclusive)
$15,000 per hotel (non-exlusive, 4 total opportunities)
Place your branding directly in the hands of attendees as they check into their hotel with a custom keycard. Keycards offer expanded visibility outside the convention center, capture attendee attention, and provide maximum exposure as attendees use their card multiple times each day, allowing them to fully absorb your message.
Deliverables:
Hotel keycards with your custom artwork printed on the front of each card, and optional card sleeve.
Sponsor responsible for artwork and design of the card. Design must incorporate ObesityWeek® logo and is subject to final approval by TOS.
Participating hotels representing nearly 1,000 rooms:
•  Headquarters Hotel – Omni Dallas Downtown
•  Aloft Dallas Downtown
•  Hyatt Regency Dallas
•  Westin Dallas Downtown
Top Dog Bark Park - $30,000 (exclusive)
Looking for an opportunity to stand out at ObesityWeek® and make a difference in the lives of our furry friends? You can be the Top Dog in the exhibit hall as the exclusive sponsor of Bark Park!
Attendees will see a large floor cling at the entrance to the exhibit hall, promoting your company as the Top Dog Sponsor. Adorable puppy-foot shaped floor clings will lead the way to the Bark Park, where attendees with see a sign with your logo and message.  Inside the Bark Park, dogs and attendees can spend a few minutes together, while attendees rest their weary feet on park benches.
Your generosity won't go unnoticed by the dogs and their handlers, who will receive bandanas with your company logo to show off. If you would like to donate branded shirts for the volunteers, we know they would be proud to wear them! We will provide a table for you to hand out your branded promotions near the entrance to Bark Park. Best of all, we will make a donation to a local animal shelter on your behalf!
Don't miss out on the chance to make a difference and promote your brand at the same time. With recognition in pre-show marketing pieces, on the website, and at the program, your sponsorship of Bark Park makes you the Top Dog, and is a win-win for everyone involved.
Coffee with Professors - varies
$20,000 (exclusive, per session)
$15,000 (non-exclusive, up to 2 per session)
Help attendees take a break from the grind by sponsoring Coffee with Professors on Sunday or Monday. A beverage break like no other, Coffee with Professors allows attendees to meet face-to-face with with speakers and leaders in the field. Attendees engage and network in small discussions with subject matter experts, providing mentoring and consultation to attendees.
Your company will receive sponsor recognition on a welcome sign and 1-color logo branded napkins, plus branded table signs. Additionally, your company representatives will be invited to attend the event.
Sunrise Yoga - $20,000 (exclusive)
Experts say that starting your morning with yoga can set a positive tone for your entire day and improve your overall health and well-being. As the sponsor of Sunrise Yoga, your brand will be seen as attendees center and open their minds in preparation for a day of learning and networking.
We will provide the AV and exercise equipment, and you can provide branded gear for the instructor to wear during the session.
We will promote your brand as the yoga sponsor in pre-show marketing pieces, in the mobile app, online, and on welcome signage at the session, and during the session, the instructor will recognize your company and encourage attendees to visit your booth. We will also provide a table for you to distribute a pre-approved promotional item at the session.
Charging Station - $10,000 (non-exclusive)
You can save the day as the Charging Station sponsor! Help attendees stay connected and gain valuable brand exposure on (2) strategically placed charging stations in the exhibit hall.
Your company message will appear in print on the charging stations, and we will promote your company as a sponsor through a pre-show targeted email. Attendees will appreciate the chance to recharge during exhibit hours, and your company will receive valuable branding in high traffic areas.
Direct Access Handout - $10,000 (non-exclusive)
Place two company representatives at the entrance of exhibit hall to hand out promotional materials and drive traffic to your booth. Your booth personnel will greet attendees as they enter the exhibit hall during an assigned two-hour time frame.
Housing Door Drops - call for pricing
Expand your presence beyond the exhibit hall by dropping promotional material one night in the hotel(s) of your choosing. You provide the material, and the hotel will see to it that your materials are placed under the door or on the door handle of show attendees' rooms.
Omni Skybridge Window Cling - $3,500 per window
Looking for a high-visibility way to convey your message beyond the show floor? Choose a skybridge window cling! The skybridge between the Omni and the convention center will be heavily traveled by ObesityWeek® attendees.
Window clings are an effective and cost-efficient way to promote your brand to a highly targeted group. These popular, high value spaces are limited in number, and will be assigned first come, first served.
Exhibit Hall Floor Graphics - varies
Make sure your brand is seen by placing floor clings in high traffic areas on the exhibit hall floor. Print your logo or advertising message, or select a set of clings in custom shapes (arrows, footprints, etc) to guide attendees to your booth. Price will vary depending on size desired and location. Contact [email protected] for pricing and availability.
Hand Sanitizer - $5,000 (exclusive)
Help attendees stay healthy and germ-free wherever they go, and keep your message top of mind for them! Your logo will be printed on convenient alcohol based travel-sized hand sanitizers. Attendees can pick up in the restrooms or exhibit hall.
Digital Opportunities
ObesityWeek® is proud to announce a full suite of digital options for promoting your presence at the conference. Whether you would like an email blast to reach pre-registered attendees, have your booth highlighted on the exhibit hall floor on the ObesityWeek® website, or upgrade your mobile app presence, we have the perfect option for you.
Digital Sponsorships are sustainable and an inexpensive way to expand your reach beyond the exhibit hall, and collect valuable metrics for future marketing efforts.
Click on + to expand description for each opportunity. 
Registration Confirmation Email Ad - $20,000 (exclusive)
Every ObesityWeek® attendee receives an email confirmation when they register for the conference and reserve their hotel room. Your sponsorship of this exclusive opportunity will put your branding in the hands and on the minds of attendees as they begin to plan for ObesityWeek® 2023, extending the reach of your brand at the conference.
You provide an advertisement or logo, and we will send it out as hundreds register for ObesityWeek®. Your ad will appear at the bottom of the email and can be linked to your website. Include a promotion code or action item unique to this ad for instant metrics. Statistics are provided post-conference. Ad graphics should be 700 x 200 pixels @300 dpi in .png or .jpg format.
Your message will reach attendees early in their conference planning, and they will know that your brand is invested in providing them with a positive experience. This not  only establishes trust and credibility, it also sends a clear signal to the industry that your brand is invested in supporting ObesityWeek®.
Know Before You Go Email - $17,500 (exclusive)
Sponsor the Know Before You Go Email to reach every attendee about a week before ObesityWeek® and help attendees have a smooth and stress-free experience at the conference. This helpful email will include essential information about badge pick-up, food and beverage, dress code, and special networking events.
Only one sponsor can place an ad in this email, and doing so can help to create a positive association between your brand and ObesityWeek®. Attendees will see your company's support of the conference and view your company in a positive light.
Post Conference Exit Survey Email Ad - $15,000
Place your ad on the email sent to attendees to encourage them to return their post-conference surveys. This email will be sent up to four times per attendee, so you can be sure your message is seen.
Mobile App Push Notification - $2,000
Information on App Push Notifications coming soon.
Email List Rental - $1,000
You provide the content and layout, and our email vendor will send an email from you to opted-in attendees. Use this email to promote a contest or booth giveaway, announce a new product or service, or just let attendees know where to find you.
Email marketing is an inexpensive way to make new connections, stay in front of your competition, launch new products, and build your brand.
TOS Exhibitor Spotlight Email - $500, limited opportunities available
Be a part of the Inaugural Exhibitor Spotlight email series! New this year, TOS will send an exclusive Exhibitor Spotlight email prior to the show to pre-registered attendees, and one email post-show to verified attendees. The pre-show email is designed to spark interest in your product or service and drive traffic to your booth at the show, and the post-show email is used as a reminder after the event.
Reserve your spot in the Exhibitor Spotlight, and your price is guaranteed through ObesityWeek® 2025! This is an opportunity that is sure to go fast since it's a limited  offer, so don't delay.
Official Obesity Week® Logo Usage Guidelines:
Sponsors may use the ObesityWeek® logo and ObesityWeek® name provided the following:
1. Any public-facing document bearing the ObesityWeek® name or logo must be approved by [email protected] before distribution.
2. Documents bearing the ObesityWeek® name or logo must include this required disclaimer: "This (ad/flyer/email/document/etc.) was created by (Name of Sponsor) and is not part of ObesityWeek® 2023 as planned by The Obesity Society. This (company/product) is neither sponsored nor endorsed by ObesityWeek®."
Sponsorship Sales Contact:
Stephanie Garcia, CEM, PMP
Phone: (240) 485-1954
Email: [email protected]